New C-Section Recovery Center First Of Its Kind Provides Natural Relief from Long-Term Pain Caused by C-Section Surgery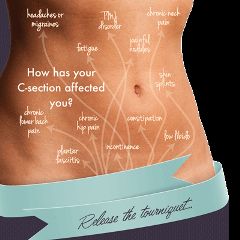 PLANO, TEXAS - February 4, 2015
– C-Section Recovery Center is pleased to announce the opening of the company to serve their clients in Dallas, Plano, Frisco and surrounding areas. Using proprietary bodywork and massage techniques, C-Section Recovery Center achieves a high degree success in chronic pain relief using only natural methods.
C-Section surgery has steeply increased for more than a decade.

Nationally 32% of births, and in Texas 36% of deliveries, are by caesarean surgery. Also increasing is c-section-related long-term chronic pain - a common result of "bikini cut" caesarean surgery.
C-Sections are traumatic, and a common result is persistent pain lasting many months or years. A peer-reviewed, often-cited article published by the American College of Obstetricians and Gynecologists found that 33% of women studied experienced chronic pain lasting at least two years after Pfannenstiehl incision (bikini cut) c-sections.*
C-Section Recovery Center provides chronic pain relief for women who have had c-sections. Using proprietary bodywork and massage techniques they have developed, C-Section Recovery Center obtains relief from pain near the incision site, and at distant locations in the body where nerve pain and muscular disfunction may be referred.
"Ours is the first and only massage therapy program developed specifically to address c-section surgical trauma" said John James, owner of C-Section Recovery Center. "For too many years, mothers have complained to their surgeons of incisional pain, abdominal bulging, low back or hip or shoulder pain, and the inability to resume a fully-flexible life

- without receiving satisfactory responses. We listened! And through thousands of massage and bodywork sessions we created a unique process for c-section-birth mothers that is highly successful at eliminating chronic pain" claims Mr. James.
The typical new patient at C-Section Recovery Center has had a "bikini cut" c-section two or more years ago, experiences sharp pain at the edges of their incision, and a dull continuous sensation of fullness, pressure or restriction in the lower abdomen. Although they often don't realize the connection, these women also present with back pain, hip pain, shoulder pain, headaches, fatigue, constipation and urinary incontinence - which are often consequences of their c-section surgery as well.
Fortunately, a high percentage of patients experience complete relief from incisional pain and the distant-but-related chronic pain over a course of ten sessions with C-Section Recovery Center.
C-Section Recovery Center, http://csectionrecoverycenter.com based at Plano, Texas emerged from an advanced massage and bodywork practice which has been serving area clients for over twenty years - Massage Source Plano Texas. John James LMT, CST is the sole owner of C-Section Recovery Center and the developer of its unique, proprietary therapy.
Owner, C-Section Recovery Center
Address: 3400 Silverstone Dr, Suite 119
Email: info@csectionrecoverycenter.com
* Obstet Gynecol. 2008 Apr;111(4):839-46. doi: 10.1097/AOG.0b013e31816a4efa
The Pfannenstiel incision as a source of chronic pain.
Loos MJ1, Scheltinga MR, Mulders LG, Roumen RM.